Hi Creative Mamas! I am in a mission to make face masks that are not only super practical to use but also beautiful and pretty to wear. I made this free printable embroidery template for face masks in order to make it super easy to print and embroider your face mask just before you finish sewing it 🙂
What materials do you need to embroider your face mask?
We need to keep in mind that all face masks must be made using natural cotton and natural fibers. Therefore, we can embroider the face masks safely by using 100% cotton embroidery thread.
Also the face mask is double or triple layer so the the embroidery will be kept in the inside of the mask and will not be in contact with the face.
Is it safe to use embroidery in face masks?
As long as you use natural cotton embroidery thread there is no reason for concern 🙂
Do you need fusible interfacing to embroider a face mask?
Absolutely not! Fusing contains glue and chemicals and we definitely don't want to add any of those to our face masks. I have been advocating for making our own reusable and washable fabric face masks from using cotton scraps from home. Using these free embroidery templates to embroider our face masks is just a little way of making them cuter and prettier but it doesn't change the materials that we use in the process.
Free Printable Embroidery Template for Face Masks
The Embroidery template is free for you to download from the Free Resource Library -get the password for free by filling out the form below)
How to use the free printable embroidery template for your face masks?
Super easy! You need to cut your face mask pattern pieces. You have different styles of face masks. Here are my favorite face masks tutorials:
Choose one of the above tutorials and follow the instructions. Once your face mask is cut you can embroider your chosen area of the mask.
For this tutorial I sewed the two pieces before embroidering it but it would have been easier to have a single flat piece. Also I didn't use an embroidery hoop. Follow these steps shown below.
Tutorial:
This post contains affiliate links, which means I receive a small commission, at no extra cost to you, if you make a purchase using this link. Please see my disclosure for more details
Step 1: Transfer the embroidery design onto fabric
Print your embroidery template and choose your favorite embroidery shape! Prepare the cotton embroidery thread and transfer the pattern using a transferable erasable marker.
To transfer the embroidery design onto the fabric mask piece you can use a light box (if you have one) but otherwise you can place the paper template on a window and place the fabric on top of the paper. The light that comes through the window will make the fabric see through and will allow you to trace the design which is beneath the fabric.
Make sure you are using an erasable marker!
Step 2: Embroider your face mask
Bring the thread from the wrong side of the fabric mask piece and start embroidering by following the traced lines.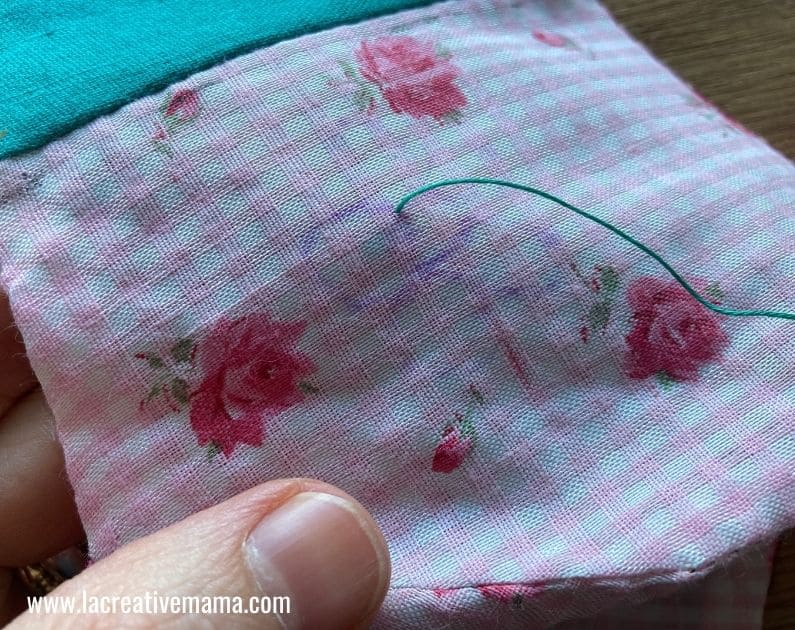 I used a backstitch to create the outline shape. Check out this tutorial to learn how to make a backstitch
I used a lazy daisy stitch to fill in the flower petals. Check out this video tutorial to learn how to make a lazy daisy stitch. Super simple!
For the center of the flower I used a six strand cotton embroidery thread and filled the area by making filling stitches.
Once you are happy with your embroidery you can sew the mask as per the tutorial instructions. This is the kids mask which has the added color facing on one side to identify the different days of the week to wear it. Check it out here.
I hope you enjoy decorating your fabric face masks. Please reach out should you have any questions! You can also get creative by adding applique or a little fabric collage motif on your face masks. Check out some more creative sewing crafts ideas here.
Below are my recommended materials for this tutorial:
How to embroider a fabric face mask by machine
Here is an example of what can be achieved if you decide to embroider your fabric face mask using your domestic sewing machine.
Depending on what type of sewing machine you have you can achieve amazing results! These face masks were made and embroidered by Barbara who is an amazing creative mama. Don't they look awesome?
She made a collection of different masks and embroidery motifs for her friends as Christmas presents.
Barbara created these embroideries using an embroidery Janome machine.
Embroidery sewing machines: